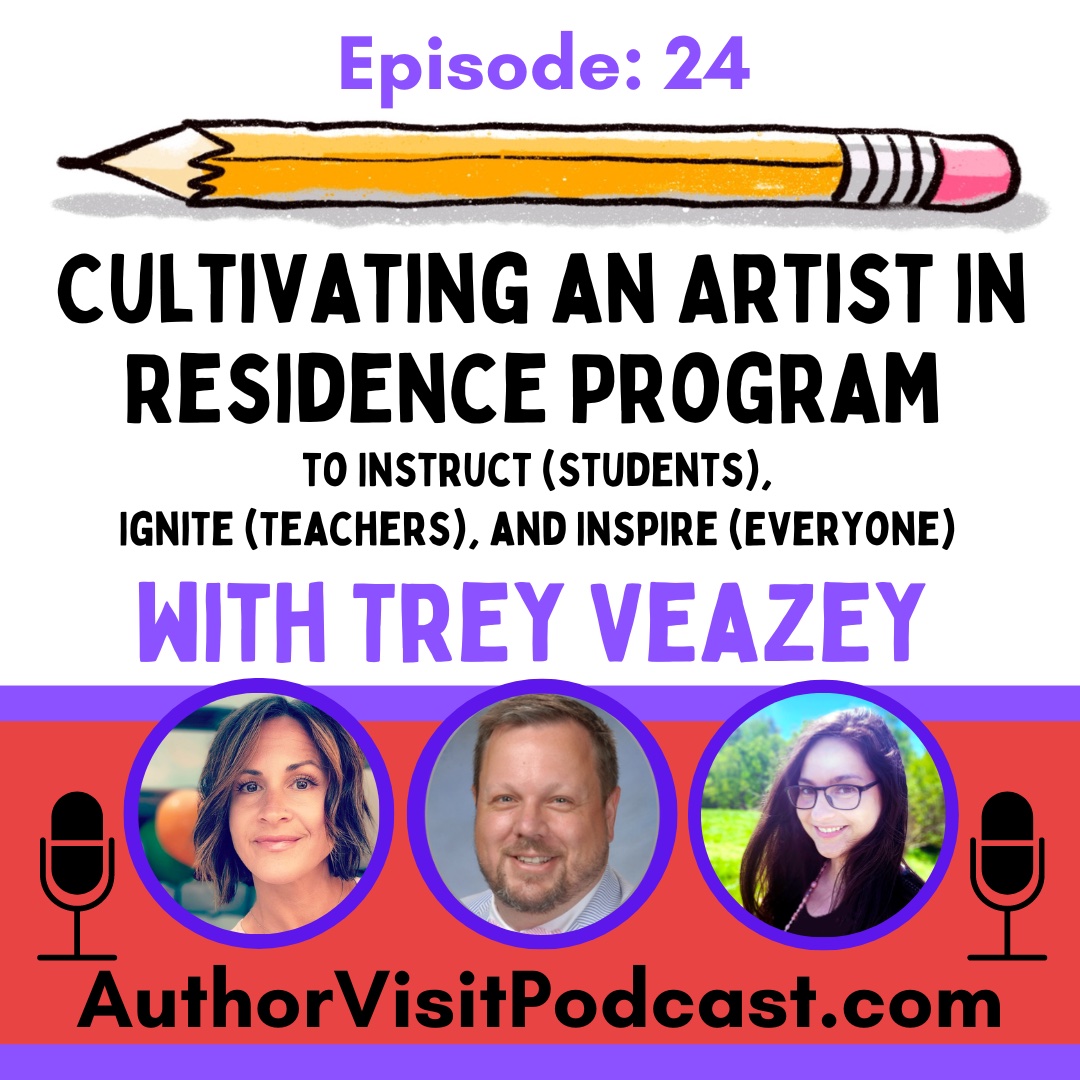 This episode is geared toward educators, but helpful for authors and booksellers as well!
Today we are talking with Trey Veazey, who is the Assistant Head of the Lower School at an independent school called The Walker School near Atlanta, GA. This past fall, Trey invited Bonnie (Clark) to be an author-in-residence as part of the school's annual book festival. "It was an incredible experience", says Bonnie.
Some of the questions and conversation with Trey…
Can you tell us a little more about yourself, your background, and the annual book festival at The Walker School?

Describe the Book festival for our listeners (if you haven't already).

How many years have you been doing the book festival? How did that start in the first place? Was the festival your brain child?

5th year

Previous iterations

USM FBK CBF

Kimberly Willis Holt
You added the artist-in-residence to this year's festival, correct? What led you to try this?

An old idea spurred to action by your episode with Joyce Hesselberth

How'd it go? And what led you to Bonnie as your first Artist-in-Residence?

Counselor

Local artist

I'd love to hear from Bonnie on how it went

What was your favorite part of the most recent festival? And the worst part?

Is the book festival something you could only viably do within a private school setting with more freedom and funds or do you think public schools could make it happen as well?

Central Primary & Glen Oaks Park

Reference the flood

PARTNERSHIPS

How do you fund an event like this? Book fair/book sales? Grant? In the school budget? Other?

However you can

Office of Development

How do you handle book sales at the festival? 

Talk about pop-up shop and pre-orders

What's one thing you've learned over the course of doing the annual book festival? Or what's your main advice you have for schools wanting to try something similar? 

Ideas are like plants. They take time. You have to plant the seed and tend to those ideas. Sometimes, you have to reseed the idea, and sometimes, you have to prune it completely and start fresh. The thing is that the ideas will never grow if you first don't plant them. Give yourself ample time to sprout, but one thing you will not here me say is to start small. If you dream big, lean into that. Of course, check your boxes and make sure things are handled, but don't minimize the impact you can have on your school community because there are too many details. Every tapestry is made of individual threads. 

Support system on-campus and off

Independent booksellers (cost-benefit analysis)

What's something you learned from adding the artist in residence to the book festival this year?

Opportunity for students (independent selling point)

Increased network and professional opportunities

Capacity for unique experiences each year
Anything you wish I had asked?
Thanks for joining us, Trey! That wraps up our 24th episode about Cultivating an Artist in Residence Program to Instruct (Students), Ignite (Teachers), and Inspire (Everyone) with Trey Veazey! 
This podcast is sponsored by AuthorVisitCentral.com and produced by Ben McCloskey. And if you enjoyed this episode, please rate-and-review us on Apple Podcasts! 
What did you think about this episode with Trey? Or maybe you have an idea for a future episode? Let us know through the contact form on AuthorVisitPodcast.com. 
Thanks for listening!